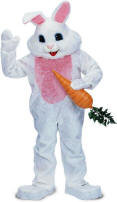 SHIRT OFF HIS BACK
I've always said my son, Rojo, is the kind of person that would give you the shirt right off his back. That's true. But not today. Today he is wearing his new Allen Iverson #3 Denver Nugget t-shirt that the Easter Bunny brought him, Devohn. That's right. The Easter Bunny's name is Devohn. Has been for years. Don't ask me why. It. Just. Is.
Rojo will be 12 in July and is still as excited about the Easter Bunny, Tooth Fairy and Santa as ever, if not more so. Yesterday I was given big instructions:
1) Call Devohn at 8:00 PM and iron out the details regarding exactly what time he'd be arriving to hide the eggs.
2) Don't forget.
3) Tell Devohn to wake up Rojo because Rojo wants to hold his hand when he comes. And take a picture of himself with Devohn.
4) Don't forget.
5) Make brownies for Devohn and don't let anyone else eat them.
6) Don't forget.
7) Make sure Devohn doesn't forget to bring Reeses's peanut butter cups. The small ones with pretty colors.
8) Don't forget. (And yes, I had forgotten, and yes, I went back to the store. Again.)
I was reminded of these instructions approximately every 2 1/2 seconds, give or take a second.
Devohn came at 1:45 AM and "tried" to wake up Rojo, but Rojo just wouldn't wake up, but Devohn held his hand anyway. We know this, because Devohn used our digital camera we left out for him, and my printer we'd set up, and he took a really cute picture of himself and printed it out. Then Devohn wrote Rojo a note about holding his hand.
That shirt's not coming off. It's got Allen on the front and Devohn picked it out for him special.
But if you really want it? I think he'd give it to you. He's just like that.
JUST LIKE THAT
Rachel Bissex
When a young woman falls
Do you pick her up
When a young man is lost
Do you show him the way
When a dreamer's dream is gone
Do you help them see
They gotta have a dream
Help them through each day
I know some people just like that
Give the shirt right off their back
Yea, they're just like that
When you find the girl you love
Do you steal her away
When you see the man that's right for you
Do you marry him that day
When you have more than you need
Do you spread the rest around
Be it time, be it money, be it love
I know some people just like that
Give the shirt right off their back
Yea, they're just like that
When you reach out the heavens open
When sun pours down upon your face
When hope speaks a door way opens
When you're welcome into a loving place
When 50 years go by
Does it feel like two
Do you share every moment
Do you always speak the truth
When you go out to a show
Do you dress like twins
When his hand is shaking
Do you put yours in his
I know some people just like that
Give the shirt right off their back
Yea, they're just like that
I know some people just like that
They give the shirt right off their back
Yea, they're just like that
Yea, they're just like that
*Photo from Costumes of Nashua.com