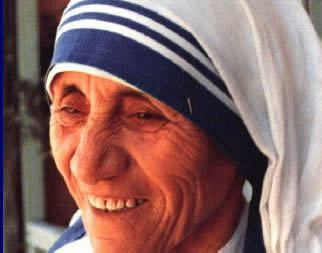 TOP 10 FAVORITE MOTHER TERESA QUOTES
10. "Good works are links that form a chain of love. "
9. "The success of love is in the loving - it is not in the result of loving. Of course it is natural in love to want the best for the other person, but whether it turns out that way or not does not determine the value of what we have done."
8. "Love begins by taking care of the closest ones - the ones at home."
7." Let us always meet each other with a smile, for the smile is the beginning of love."
6."Do not think that love, in order to be genuine, has to be extraordinary. What we need is to love without getting tired."
5. "I have found the paradox, that if you love until it hurts, there can be no more hurt, only more love."
4. "Joy is a net of love by which you can catch souls."
3. "It is not the magnitude of our actions but the amount of love that is put into them that matters."
2. "I do not pray for success, I ask for faithfulness. "
1. "In this life we cannot do great things. We can only do small things with great love."