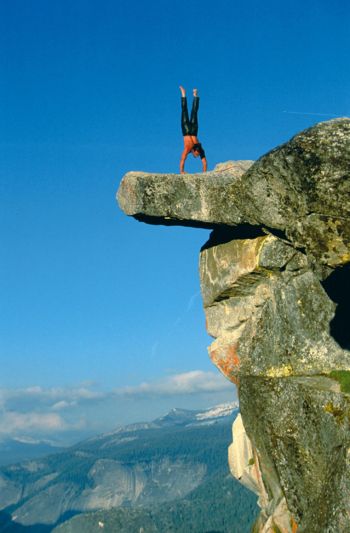 THEY'RE BACK
The kinds of deep, powerful, vivid and memorable dreams I had two summers ago that helped to change my life, are back. They took a long break and I missed them, but they are gloriously back and with their return has come an unexpected bonus: I seem to wake up "knowing" what they mean.
I could be wrong, however.
But even if I am, there is nothing better than waking up with a sense of clarity - even if it means you have to now get off your butt and make things happen.
Last night I was standing on a precipice, trying to throw a laundry line from my little edge way over to the other side. How I thought I was going to actually STRING the laundry from the line is a whole other issue. But as I stood there throwing, my foot slipped, and I started to go over. I would have died for sure, but I grabbed on to some measly clump of dried grass and hung on for dear life.
Then I pulled myself back up to safety.
Next dream I was in a car with
Deb
. She was driving us along a road that was at a 45 degree angle, and to stay on our side of the solid yellow line, we would have had to defy gravity. So we didn't. She drove on the wrong side of the road with all the confidence in the world that we'd be fine, and her confidence filled me, and I, too, knew we'd be fine.
Third dream featured a person I've never actually met but always admired, and one that represents what I'd like to be in my dream of dreams: successful author. In the dream I kept dancing (literally - like a fairy) around this author, unable to speak or make actual contact with them.
When I woke up I knew two things:
1) I love the estrogen patch that allows me to sleep through the flippin' night again.
2) I have been scared, and my fear is what (and only what) is keeping me from having what I want from this life.
Fear is TFBS.
Tonight I plan to dream up my action plan.
Stay tuned.
* Photo from www.avertinghumanextinction.org