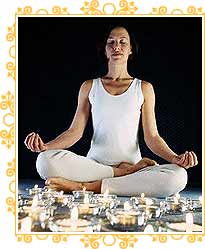 MEDITATION ENVY
Four of us have a meditation practice going, one week only, same time every day, two on the West Coast, two on the East. We're each to meditate on the same thing, then e-mail each other with what "came up" for us.
I am flunking meditation.
Everyone has better meditations than me.
The others are mystical, three dimensional, vivid, and oh so impressive.
I am flunking meditation.
"That's OK," I tell myself, "I meditate while I write. Yea, that's it, my writing is my meditation."
Only not so much. Pretty much doing 10 other things when I write, meditating not being one of them.
"Well, I meditate when I sweep, vacuum, iron, all those repetitive and mindless housekeeping jobs."
Sure, that would work, but that's when I catch up on the phone calls.
"Sleeping is my meditation."
I'll go with that. It's all I've got.