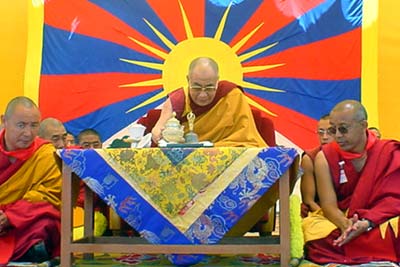 WHEN THE STUDENT IS READY
THE
MASTER APPEARS
The Universe conspired to send me quickly and dramatically to San Francisco to receive teachings from the Dalai Lama. Thursday evening I was minding my own business, 12 hours later I was a world away, being instructed on Dependent Origination, what is said to be the heart of Buddhism, by His Holiness, the 14th Dalai Lama.
I'm sorry, perhaps I didn't make myself clear. I RECEIVED TEACHINGS FROM THE DALAI LAMA! Oh, yea, there were 4,999 others there too, but who cares, I know he was talking straight to me.
The intense and heady teachings were broken into three 2-hour sessions. Long about hour 5 1/2 my friend sitting next to me leaned over and whispered, "You realize you're in the stream, don't you? You realize you've just received teachings from THE DALAI LAMA. All that's left is for you to take refuge."
"Taking refuge...." I thought to myself. Hmmmm... What do I think about that. I decided to do the "When in Rome" thing, stop thinking with my mind, and listen with my soul.
Sticking one toe into Buddhism was fine for awhile, plenty. Then I learned that wading could be nice, too. The water was warm, nothing to bite or sting. Do I want to dive in head first? What's stopping me? What stands in my way? What part of all that is real? What part of resistance is within, and what is without? As within, so without. Emptiness. Universality of suffering. Ceasation of suffering. Confusing thoughts making my mind work harder than it comfortably can. My body though? My soul? My "being" has never felt calmer. That has to be significant.
I am sure the Universe will compassionately bring me another teacher, when I'm ready for my next teachings. I'm not sure where you go after you've been taught by THE master, but I can't wait to find out.